What Can Cone Crushers Do for You?
Uncategorized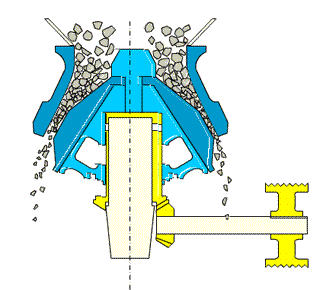 If your company is regularly engaged in the processing of aggregates and related materials, then purchasing and installing one or more cone crushers can go a long way toward enhancing your production capabilities. But with a variety of crushing equipment on the market, the unique benefits of cone crushers may not be obvious. After all, both jaw crushers and impact crushers are also capable of processing these kinds of debris. What's the difference?
To clear away these confusions, we've put together a brief guide to cone crushers that explores their particular capabilities and production advantages.
A Quick Overview of Cone Crushers
The cone crusher was invented back in the 1920s by the Symons brothers, in Milwaukee, WI. Their creation—called a spring cone crusher—soon became standard equipment for industries that require high-quality rock crushing machines. In later years, the invention of the hydraulic cone crusher provided additional options for businesses that use this type of equipment.
Today, cone crushers are commonly used in a variety of business sectors, including:
Construction and demolition
Mining
Natural gas extraction
Mineral processing
Metallurgy
Recycling
Fracking sand (frac sand)
In most cases, cone crushers are used as secondary or tertiary machines in a crushing system. They process materials that have already passed through a primary crusher (which is usually a jaw or impact crusher). This ensures that the cone crushers are handling material of a manageable size.
How Cone Crushers Work
The design of a cone crusher is fairly simple. First, the material (or feed) is dropped into the crushing cavity. Inside this cavity is the mantle, an iron or steel part that resembles an inverted cone. While in operation, the mantle gyrates in an eccentric pattern. As a result, the gap between the gyrating mantle and the concave (or bowl)—that is, the stationary ring around the crushing cavity—rapidly and continuously increases and decreases at any given point. This forceful gyration repeatedly crushes rocks against the concave.
There are two vital data points associated with the movement of the mantle: the open side setting (OSS) and the closed side setting (CSS). The OSS is the largest gap that can be created by the movement of the mantle, and the CSS is the smallest possible gap. These two settings determine the range of the sizes of the materials that are produced by the crusher.
When the machine is running, the generated crushing forces result in the gradual reduction of the size of the debris. These materials are also subject to interparticle crushing—that is, they are also frequently smashed against one another inside the chamber. This phenomenon aids in the efficient reduction of feed materials. Every piece of material fed into the cavity will be crushed around ten times before it leaves the machine.
Crushed objects drop lower and lower down the chamber until they become small enough to fall out of the opening at the bottom of the crusher. From there, they can be conveyed to another crushing machine, if further processing is needed. Cone crushers typically come with springs or hydraulics that enable tramp metal (such as bolts) and other uncrushable objects to pass through the chamber harmlessly.
The cone crusher is similar to the older gyratory crusher, the main difference being the design of the spindle. In a cone crusher, the spindle is shorter and supported at the bottom of the cone, rather than suspended as with a gyratory crusher.
Benefits of Cone Crushers
For many types of businesses, cone crushers have long been valued pieces of equipment, due to their unique design features that provide multiple advantages over similar kinds of rock processing machines. The benefits associated with cone crushers include:
Accommodates a wide range of materials – Cone crushers can handle a large variety of rocks and other crushable materials, including hard and medium-hard objects. These machines are also designed to allow uncrushable objects such as tramp metals to exit the chamber without causing harm to the equipment. Only soft or viscous objects are really unsuited to the crushing process.
Adjustability – Cone crushers can be modified in various ways for specific production purposes. For instance, it's quite common to alter the open side setting (OSS) and/or the closed side setting (CSS) in order to create products of the desired size. Many types of cone crushers also allow for the easy adjustment of mantle rotation speed, which can also play a role in the quality of the treated materials.
Few maintenance demands – Cone crushers have always been noted for their simplicity of design—there are fewer moving parts than you tend to find in similar types of machinery. As a result, there are also fewer components that are prone to wearing out, breaking down, or requiring replacement. You should, however, be sure to perform routine inspections, such as regular oil checks, to ensure that everything is working correctly.
Reliability – Cone crushers will serve you well for years, provided that they are given a reasonable amount of care. Over time, this durability will help to offset the initial costs of purchase.
High residence time – The nearly parallel angles of the concave and the mantle ensure that materials stay in the crushing chamber long enough to be properly treated. This increases the proportion of output materials that comply with your desired specifications as determined by machine settings.
High reduction ratio – The reduction ratio (or crushing ratio) refers to the size of the objects entering the chamber compared with their size upon exiting it. Cone crushers typically generate a reduction ratio of 4:1 to 6:1—and sometimes substantially higher, depending on equipment settings and other factors.
Speed – Not only can cone crushers smash materials into considerably smaller sizes, these machines achieve this feat in speedy fashion, which can bolster your overall production efficiency.
Low energy consumption – Compared with many similar types of machines, cone crushers require less energy to perform properly.
With cone crushers, the best practice is to maintain a steady choke feed, with input materials distributed into the center of the crushing chamber. This will aid the machine in outputting reasonably consistent product sizes.
PP Series Portable Cone Crushers from Senya
Senya's PP Series of cone crushers have been designed for the production needs of modern construction and mining companies, as well as other industries where these machines can find suitable use.
These portable machines are highly mobile pieces of equipment that can be used in a wide range of working environments. They can be easily transported from one site to another when necessary. Each of these high-performance cone crushers can process a broad spectrum of raw materials, including limestone, baslate, granite, andesite, ore tailings, and more. With a capacity of 10-240t/h, this crushing machine will significantly boost your jobsite productivity.
To learn more about the PP Series of cone crushers or any other product on this site, call Senya Crushers at 919-323-4830. We are always happy to help.
Tags: Cone crushers, PP Series, Secondary crushers